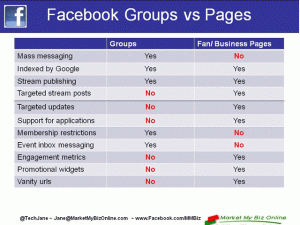 Ever struggled to try to figure out how to decide if you should create a Facebook Page or a Facebook Group to promote your book or business. Facebook does not make it easy on you to help make this decision.
This Video presentation given by Jane Dueease of MarketMyBizOnline.com in July of 2010 will help you determine what the pro's and con's are of each format.
This presentation was created to help some of Jane's Author clients like USA Today Bestselling Author, Julie Ortolon answer this question once and for all.  As Bestselling Authors, the struggle to have a "private personal life" inside of Facebook is a difficult one.  When your "Personal Profile" gets turned into a mash of Fans, Friends and Family – it's hard to really "share" your life like Facebook intended.
Unfortunately – there is not an easy answer to this problem. Nor are Author's the only one affected by this all to common issue. Dr's, Lawyers, Insurance Agent's and all walks of folks – struggle with how to balance the sales of "connecting" with clients – but stopping at Friend-ing them & sharing your "off the clock" life.
If you enjoyed the video and want to do more with your Facebook Page
Facebook Groups vs Pages for Authors
If you enjoyed the video and want to do more with your Facebook Page
Check out the Step-by-Step Facebook Video Bootcamp for Only $97
Please share your thoughts and feedback on the video, we love questions!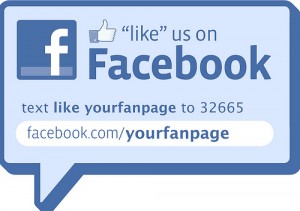 Facebook is exploding! There are over 450 million Facebook users right now!
One great and simple way to begin to dive into the world of Facebook is to create a Facebook Page for your Business. As you might have noticed a few things have changed in Facebook recently, the privacy policy, buttons, tabs and so much more!
And with these changes comes massive confusion, buttons move, "Fan me" is now "Like me" and Fan Pages are now called "Pages", is it clear yet?
No matter what business you are in – I highly recommend you create a Business Page in Facebook. Why? Simple – you might not need it now – but you will in the future. And with the "gold rush" that is on to create custom URL's for your Facebook Business Page – all of the good domains will be lost.
So, create you Facebook Business Page, Claim your custom URL (you have to have 25 "likes" to do this) and then you can sit back and figure out what to do next.
Let's get started:
1) Login into Facebook: www.facebook.com
Since this is a Business Page – make sure to have the most senior person in your company (the Owner/ CEO)– login and attach the Facebook Business Page to their personal account.
Tip: Do NOT!!! Let anyone else create your Facebook Business Page – if you do – they "own" your page – and nope – you can't get it back! (At least until Facebook creates an online customer service portal – which I don't see happening in the next few years). Note: You can file a "claim" with Facebook if your Business Page is set-up with a person that leaves or no longer works with your company. But the response time on these is pretty much super slow.
Tip: You can and should create an "Administrator" for your Facebook Page. That way the "Social Media Person" you have on staff can manage the page (post, edit, comment, etc..) but not "own" it. This is super simple and you can have several Admin's on your Business Page – so make sure to sign up multiple people on the page – just in case.
Note: While you are in Facebook, I would love it if you would "Like" of our Facebook Business Page: www.Facebook.com/MMBiz. It's a great way to keep up on all that Market My Biz Online is up to, plus it's a great way to get your Golden 25 Like's and your Custom Domain.
2) Now that you are logged into Facebook – with the account that you want to forever and ever "OWN" this Facebook Business Page:
Go to: http://www.facebook.com/advertising/?pages
Click on the Green Button: "Create A Page"
3) Select what you want the page for:
A: Local Business
If you are a local business and have one or several locations this is your check box. (Example: Restaurant Chain of 3 stores) Why? Because Facebook is creating a Local Business Directory – and this is how they are collecting the data. If in doubt this is your best selection.
Note: Once you choose Local Business – there is a drop down that appears. If you fit "perfectly" into the categories listed – change to one of them (Example: Real Estate) if your best category for your business is not listed, just leave it as Local Business.
B: Brand, product, or organization
If you are a true "brand" or single product (Ex: Tide) or a Non-Profit – this is your choice.
Note: If you are a Non-profit: You might want to consider creating a Community page as well. (Ex: Breast Cancer Survivors, or Down Syndrome Families in Austin).
C: Artist, band, or public figure
This is for Bands, Artists and public figures. (Example: Britney Spears, Tiger Woods and Pearl Jam).
4) Page Name:
This will be the "title" of your page – it is very important. Why? Because is has a strong Search Engine Optimization value and it is what folks will see when they get to your page – and get messages from you.
Stop and think about how you want to be found and known. If you have a super strong local or regional brand (or want to create one) then the title of your page should be your brand. (Example: Starbucks)
If you are an independent business or don't "own" the legal rights to your company name – think of great keywords you can use in your title. (Example: Austin Fitness Trainer, Austin Insurance Solutions)
5) Check the Box
I'm the official representative of this person, business, band or product and have permission to create this Page. Review the Facebook Terms
I do suggest glancing over the Facebook Terms – they have some things in there you might want to make sure you follow.
Some of the Facebook Terms:
You will not offer any contest, giveaway, or sweepstakes ("promotion") on Facebook without our prior written consent. If we consent, you take full responsibility for the promotion, and will follow our Promotions Guidelines and all applicable laws.
You will not use Facebook to do anything unlawful, misleading, malicious, or discriminatory.
You will not use Facebook if you are a convicted sex offender.
You will keep your contact information accurate and up-to-date.
You will not share your password, (or in the case of developers, your secret key), let anyone else access your account, or do anything else that might jeopardize the security of your account.
6) Create the Page
Click the Blue Button: Create Official Page
Congrats! You have your Facebook Business Page!
7) Next Steps: Customize, Get "Likes" Create a Custom Domain
Now that you have your page, you need to customize it, add pictures and information, video and more. Getting the page is just the beginning!
Good news: We are having a Facebook Bootcamp for Business on May 20 and 21st – to help you learn how to make the customizations to your Facebook Business Page. Facebook has it's own coding language (FBML), rules, structure and so much more. We will simplify this for you – take you step by step through the process and get you up and looking great in no time!
RSVP for this exciting webinar today: May 20th and May 21st, 2010

Create your Custom Domain for your Facebook Business Page.
I created an entire Blog post on just this topic.. so much great information!
PS: I would love it if you would "Like" of our Facebook Business Page: www.Facebook.com/MMBiz. It's a great way to keep up on all that Market My Biz Online is up to, plus it's a great way to get your Golden 25 Like's and your Custom Domain.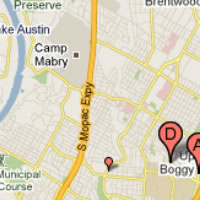 Sometimes I feel like Google is taking over the world. Okay.. so they kind of are. Never is it felt more than with local businesses and the "Google Map" also called "Google Places" by Google.
The confusion over getting your company listed in the right map for the right keywords is endless. And right off I have a few key tips for you:
1) The Google Maps section has NOTHING to do with organic SEO. I will repeat this… being #1 in a keyword (say Austin Dentist) on the Map has NOTHING to do with the "organic search results" (remember organic search results – the stuff that shows up under the map).
2) Google Maps and Google Adwords (Pay Per Click) and Google Organic (the stuff at the bottom of the page) are 3 different departments in Google. They don't talk. They don't hang out. They are not friends. So putting an Ad in Google (PPC) or being #1 in Organic (bottom of the page stuff) has zip – zero – nada to do with your ranking on the Map.
3) Folks that do "SEO"  – are not who you want to go to for "Google Maps'. I explain it like this.. would you ask a Chiniese resturant to cook you key lime pie? No. Then don't go to your SEO person to work on something that really is very different than "organic SEO". The Google Map, it's rules, the functionality and more change almost weekly. And – what can be done is different in each location of the US! Frustrating – but one more reason to hire "Specialist's" for this.
4) Your phone# is the most important thing on your map listing. Just an FYI.
Have you ever typed in your keywords in Google.com only to have this large map of everyone of your competitors pop up? Have you been struggling to figure out what that Map is and how you can get your business listed for your keywords.
This presentation below is designed to "help out". Everything you need to know about Google Maps.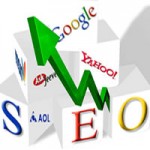 Are you confused yet? SEM, SEO, PPC, Google Places, Google Maps? Before you start working on getting your site on the Search Engines you need to learn the basics. And that starts with understanding the most important page out there your keyword SERP.
What is your keyword SERP? Well SERP = Search Engine Results Page. So your Keyword Search Engine Results Page is the page that shows up for the keyword you want.
Clear as mud? This video is designed to help you understand the key points of Search Engine Marketing. It always seems to be one of the most confusing things for folks to understand.
And frankly… I am not surprised…. the industry is constantly changing the names, titles and "slang" for each area.
There are 4 key components of Search Engine Marketing:
Keyword SERP (see info above)
Pay Per Click (also known as PPC), Also known as "Google Adwords"
Google Map, Google Places, Google Business Listing Center
Organic/ Natural SEO
So you finally have your companies Facebook Fan page up and working! Congrats!
Here comes the fun part – getting Fans and getting a custom URL for your Company Fan Page.
The custom URL will not only make it much easier to share with others, but it is just prettier!
What you get from Facebook:
http://www.facebook.com/profile.php?id=6325*4#&re
(not so pretty… )
What it can change to in these 3 easy steps:
http://www.facebook.com/MMBiz
Things to keep in mind about this change:
1) Once you change.. you can't go back. So think deep and hard about what you want the name of your Facebook Fan Page (also known as public page) to be.
2) Some are taken: So hit your favorite search engine and give them a try – www.facebook.com/the-name-you-want
3) You need Fan's to make the change – in fact you need 25 Fan's before Facebook will let you get a custom URL. So email your favorite friends, family and neighbors to become a fan.. so you can get the custom URL.
The 3 Easy Steps to Getting Your Custom Facebook Fan Page:
1) Login to Facebook.com – with the account that is the administrator for the Fan page.
2) Go to this page: http://www.facebook.com/username/
3) Select if you want to change your Fan Page (aka your Business page) or your Personal Page URL – you can do both. Just pay attention which one you choose – so you don't accidentally name your personal page your business name!
Done.. yes.. that is it.. you are done!
Questions or Comments?
I'd really love to hear if you have any questions or ideas you want to share? Any topics you'd like me to cover? If so, please post them as a comment. PS: Don't forget to sign-up for the Strategy Secrets Newsletter to keep in the loop on all the scoop! ==>
Thanks!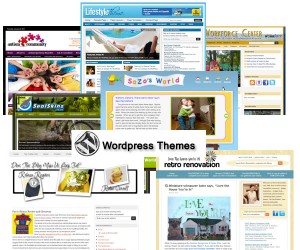 Here are some core things to remember when looking for a WordPress Theme for Business:
1)    WordPress Theme Structure:
Remember when you were looking to buy your first home or rent your first apartment? The agent kept telling you to look past the color scheme and focus on the flow of the home or apartment not the color on the walls? You can paint walls, replace appliances but moving a bathroom is a major renovation and expense.
Ditto goes for the WordPress Theme. Buy one based on what it can do for you out of the box – not what colors they use. You can have a theme's color's changed easily – re-building functionality is much much much more expensive. And really if you are changing the functionality of the theme that much – you are better off just looking for another theme.
Classic Example: Below are 3 images of the same theme – what the theme looked like out of the box, and 2 sites that are using the same theme – but with different colors. It is so important to not pass a great theme by because of the colors! Don't make this mistake!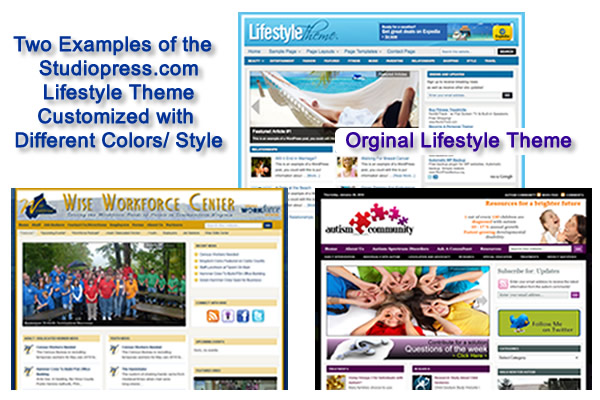 2)    Ability for your WordPress Theme for Business to Grow with you:
One of the number 1 reasons WordPress is so great – is that you don't need a webmaster. You can add a page, tab, post or widget and not screw up the rest of the site. So why is it that business owners get a free or cheap theme – that only allows for 5 pages? Ability to grow is key! Yes, the beauty of WordPress is that you can swap themes really easily. However, once you start customizing a theme – all of your changes don't always move to the next theme – so you have to start fresh.
Classic Example: Your Company does not have a blog right now, and frankly no one has any idea what to say on one. No problem. Choose a theme that will allow you to grow with it and it has a blog tab already to go (a blog tab is where the posts are linked and ready to go out of the box). So when you have something to blog about – the click of a button and you are set to go!  If you choose a theme that does not have a "blog" type button or tab built in… you have to call a webmaster in and pay to set it up. Not a good plan.
Look at each theme based on where it will take you – and what features you like – but might not be ready for right now – that you can "turn-off" for now – and "turn-on" when you are ready.
3)    The WordPress Theme's Flexibility:
Something that you love today, like a tab called "Services" might need to change in the future. Can you add a sub-tab (also called drop-down) underneath "Services" with a click of the button? Can you change the tab titled "Services" to "Our Best Services" You should be able to do all of this. This is key when you are having a designer "customize" your theme. I have had clients that choose a theme and customize it so much that the flexibility – like adding a new tab – is completely impossible.
Two Areas you need out of the box flexibility on:
Page Layout: This is where you can have a page be a 2 column page, 3 column page or full width. The best themes will have this as an option you can apply to each page. This should be a built in feature for your theme.
Navigation: Can you add sub-navigation easily? Sub-Sub-navigation? You never know how your business will grow. It is ideal to have your theme grow with you – and a good theme will have these options built into it.
4)    Active Customer Support Forums:
Theme's are cheap they range from $50 to $100. So the customer support forum is critical in your review process. An active customer support forum will save you from making mistakes, provide a great place to find web designers that are specialized in the theme and cool tips on simple things you can do to make your theme shine.
Simple signs of a good customer support forum:
Customer posts are recent: (as in the day you login) and there are replies to the posts on the same day.
Video Tutorials: most themes should have at least one video tutorial on how to make the basic changes to the theme. Video is a great way to learn – and really key to keep up with all of the theme changes.
You can search posts: Being able to search existing posts and tutorials is critical – some one may have the answer to your question already up – all you need to do is search. Robust searching is a key component of a good customer support forum.
5)    Is your WordPress Theme for Business being Maintained?
Would you buy a car from a company that closes up shop? Who will keep up with the recall's – safety issues and changes that might be needed to your car over the years? The same issue and concern applies to WordPress Themes. WordPress is a free content management system that is constantly being updated. Constantly! It is not un-common for WordPress to have 10 – 20 updates in a year (some major – some minor) that means your theme has to keep up. With all of the updates and changes, the chances of your Free theme being able to handle and grow with them is low.
Remember: Part of the beauty of a WordPress site being able to add pages and maintain the site for the most part on your own. So buy a theme that is clearly being supported and maintained by an active paid or volunteer army of webmasters. Most themes run from $50 to $100 and include a lifetime of support and maintenance.
Hot Tip: Be on the lookout for theme's that web designers specialize in. If you can find 10 – 20 web designers on the theme's website – that clearly specialize in that theme – this will ensure someone is keeping up with the maintenance and support issues. The more dedicated specialized web designers – the better the support forums and the better buy for your business theme.
Your WordPress Theme for Business Checklist:
Functionality?

Does it have content where you want it? Can you add features to the side bar?

Can you add in new widget where you want them?

Can the theme grow with your company?

Does it have a blog tab/ page built into the theme?

Does it have lots of places to add widgets? Easily?

Who supports and maintains the theme?

Does it have an active customer support forum? Are customer posts responded to?
Can you search their archives?

Does it have a robust list of web designers that "specialize" in that theme?

Flexibility

Does it have a 2-column, 3 column and full width option for pages already built into the template?

Does it have drop down navigation options? Sub-navigation options? Sub-sub navigation options? Are they built into the theme?
Have you noticed that when you type in a search query for anything in Google, Yahoo or Bing, a Map with little push-pins pop's up?
In Google – that is the Google Map, or 7-Pack. It's a pretty powerful place to be.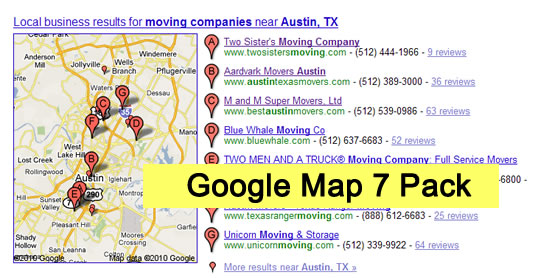 The Google 7-Pack not only shows up above the "organic" or "natural" search results, but it has a higher click rate than the Google Adwords (Ad's surrounding it).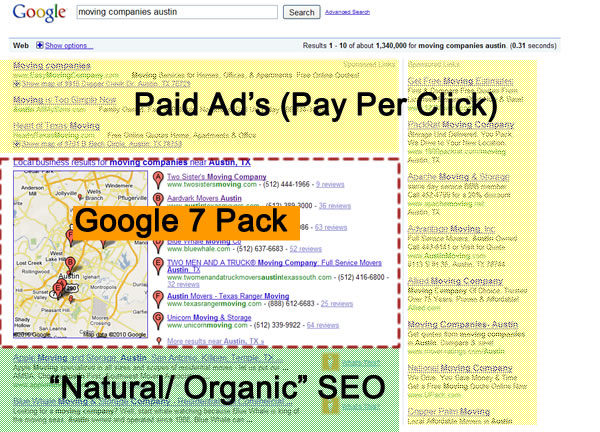 Let's be clear, this Google 7-Pack is only one piece of the puzzle. The actual listing (the data that shows up on the map) comes from your Google Business Listing.
Why does your Google Business Listing Matter? Because it shows up in places outside of just the Map.
Where does it show? The Google Business Listing information shows up all over the web and Google, it show up in the search results pages (in the Google 7-Pack), in the map pages (when getting directions) , in the mobile applications (when texting Google or using a Map system to find your location or phone number) and so much more.
The data that appears in these Maps is from your Google Business Listing.
For Example:


Good news, some of you have been in business for a few years and have had your company information listed in a directory site (Superpages.com, Yellowbook.com, etc) and/ or your company information (Business Name, Address, Phone) was listed in the white pages of the phone book. That is how your information is already pre-populated in your Google Business Listing. Google took this company information from phone books, directory sites and more and created a Google Business Listing in your honor. Congrats!
If you are a new company (under a year) or have never participated in some of these things (like be in the phone book/ white pages) you might not have a listing. No problem – you can get one for Free!
Your Google Business Listing is basically an online business card for your company, however because it is done by Google – it has a lot of marketing power that you need to know about.
The trick is you have to "Claim" and "Optimize" your Google Business Listing. You can't just have it.
Step #1: Check to see if you have a Google Business Listing
1) Go to http://www.google.com
2) Type in the name of your company. We did this for "Two Sisters Moving Company" below.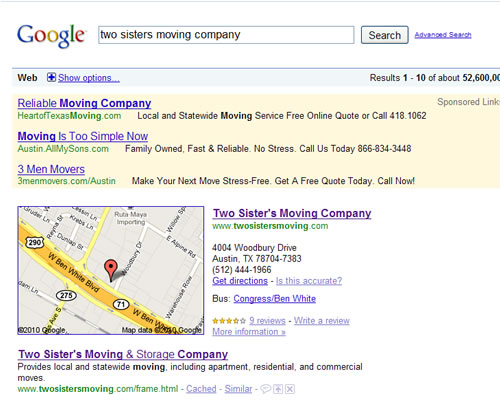 3) See how the Map appears? With the Business information next to it? They have a Google Business Listing that has been "Claimed" and "Optimized".
If you do this for your company name, and a map does not appear – then you don't have a listing and you need to create one.
If you have a Google Business Listing in your Company name – Congrats! Next step is to "Claim" and "Optimize" it.
Next Step – You have to "Claim" and create (if you don't have a listing already) your Google Business Listing.
This is always my favorite question to Business Owners, "Have you claimed your Google Business Listing?"
The answer is always a "YES" then when I look it up…. the truth is it's a big "NO".
Because, let's face it… Google has not exactly been "pro-active" about this Google Business Listing stuff. And if your company has been in business for a few years, you might have a listing, and might even show up on the Google Map, but you still have not "Claimed" it. Which means it is wide open to someone else "Claiming it" and not giving it back.
Yep, it happens. And FYI – there is not a small biz Google Claims court. Google will just tell you to create another listing. But they won't remove your illegal listing – so now you have two listings, and the one that is on the Map will not be your new listing – but the illegal listing – confused?
Don't worry. I get into Step# 2 – Creating & Claiming Your Google Business Listing in next weeks post.
Live Webinar – Feb. 9th, 2010: How To Claim Your Google Business Listing & Optimize it For Your Business
I am hosting a live Webinar on February 9th , 2010 that will teach you how to Create, Claim and Optimize your Google Business Listing. The tips, secrets and tools you need to maximize your listing and get to be #1 are the Google Z-Pack Map are all explained! Sign up today to secure your spot here….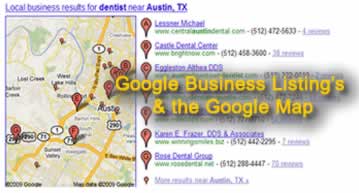 There are lots of Myths surrounding the Google Business Listing. I am going to cover the top 8 Myths that Business Owners have concerns about.
The Google Business Listing shows up when you are searching for services in your local area. Typically this means you use a location in your search query (Example: "Austin realtors" vs "realtors"). However in certain keywords/insustries/categories Google will "decide" that based on your IP it will by default only show the local results for the term and will show the map as well.
The official term for the map area as shown above is the "Google 7 Pack". It was once known as the Google 10 Pack, but it seemed that Google did not like the 10 listings (thus the name) so it changed it so only 7 listings are displayed on the map when it appears. By the way, Google does these kinds of changes alot. So if you feel I am not being clear on a few of these myth's is because Google does not do things in stone. They change. In fact if you are in the San Fernando California area, I can bet Google is showing the Google Map differently (you are in the test bed zone). So test your market to see if Google is doing something different with the Map in your area.
Now, the best way to think of the Google Business Listing (and the Bing, Yahoo, etc.. listings as well) is as though they are an online version of your Business Card.
If you can put a picture on your business card, you can do it on your Google Business Listing. If you can put your phone, email, replicated website (for MLM's), home address, logo, special discount coupon… then you can put it on your Google Business Listing.
1) Myth: I must have a Website to Have a Google Business Listing
Truth: No, you do not have to have a website to have a Google Business Listing. This is great news for the Plumbers, Electricians, etc.. that just don't have a website (yet). The Google Business Listing acts like your Website in some respects. You can put pictures on your Google Business Listing, coupons, videos and more.
2) Myth: I must have a physical retail location to have a Google Business Listing
Truth: No, you do not need to have a physical retail location to have a Google Business Listing. You can use a PO Box or even use your home as your address for your Google Business Listing.
Note: Whatever location you use, Google will put a picture of it on your Google Business Listing. So, if you use your home address, the most recent picture of your home will show up. This could be another great reason to keep your yard up or it might be a great reason to invest in a PO Box (or Mailboxes Etc/ UPS store) address for your company.
Officially Google has not shown a bias to a PO vs an "actual" address. However – if you don't have either – I would suggest investing in a UPS store/ Mailboxes etc type box for your business instead of a PO Box. They are more expensive – but it they look like "real" address vs a PO Box.
3) Myth: I Don't Need to Have a Google Business Listing  because I am a Virtual Business (Coach, E-commerce site, Consultant, Author)
Truth: Do you want people to find out about your services using Google? If your answer is yes, then you need to have a Google Business Listing. Remember, your Google Business Listing is like an online Business Card, so if you have a business card, you need a Google Business Listing.
4) Myth: I have to pay Money to get a Google Business Listing.
Truth: It is **FREE** to create or claim your Google Business Listing. Same rules apply to Bing, Yahoo and many other listing sites and directories. The trick with the search engine listings (Google, Yahoo, Bing) is that after you claim them you have to "optimize" your listing so it will show up in the right keywords for your company. So it is kind of a two part process. Click Here to claim your Google Business Listing .
Author Note: I have created a 2-part webinar on how to "Claim" and "Optimize" your Google Business Listing. This webinar will walk you through all of the steps, tricks and tips to getting your Google Business Listing created, looking good and positioned at the top of the map for your industry and area. Click-here  to learn more.
5)
Myth:
I have to have a license by the state, or I have to be a "formal" business (LLC, C-corp, S-corp) to have a Google Business Listing.
Truth: Your Google Business Listing is like a Business Card, if you have enough information or "right" to have a business card then you are all set to create a Google Business Listing. Google does require that you "Verify" your business via a automated phone call or mailing you a post card, but that is where the verification stops. Again, if you want someone to find your business by using Google's search engine then you need your Google Business Listing.

6) You Don't Need to Have a Google Business Listing because Google does not use the Map for your industry
Truth: There are 2 reasons the Google Map or (Google 7 Pack) does not show up for your industry or keywords.
# 1: Because there is no one in your category/keywords/industry that has "optimized" their Google Business Listing. Good news is that as soon as you do this, you will be the ONLY one that will show on the map. Note: Their are exceptions to this, what industry/ category/keywords you are optimizing for Google might not support the Google 7 Pack on right now. See more below.
#2: Google does not allow/ support the Google Map or Google 7 Pack on that industry/keyword/category at this time. A classic example of this is SEO or "Search Engine Optimization Companies". If you search for SEO companies in your local area (Example: Austin, SEO companies) they Google 7 Pack does not show up, even though this is the perfect example of why the Google 7 Pack is so powerful and useful. Why has Google done this for this industry/category/keyword? Well because they can and because Google views anyone doing "Internet Marketing" as kind of "bad". So they don't support the map for this category/industry/keyword.
Remember one thing about the Google 7 Pack. Things will change. Google took down all of the phone numbers in the Google 7 Pack one day. They said it was a "bug" and things were back up in a few hours. And the Google 7 Pack used to show 10 listings on the map and now they show 7. Things change, bet on it. So if your industry is not supported today – how do you know it won't be tomorrow. FYI – Google does not "announce" these kinds of changes, it's your job to be on the lookout for them. That's why I take the Boy/Girl Scout approach of just being prepared.

7) My Website is More Important Than My Google Business Listing

Truth: They are both important. However, if you have a very basic website or none at all the Google Business Listing is a great way to begin to market your business online immediately. All you need to "Create" or "Claim" your Business Listing is to have a phone number and mailing address.
The Power behind the Google Business Listing is that it often appears first in Google search results. That means your listing can appear above a company that has spent thousands of dollars on "organic" SEO. And if you Google Business Listing is fully optimized, it could event appear at the top of the Google 7 Pack.
This is key for new businesses and companies that have yet to invest in SEO (search engine optimization) on their site. It is totally possible to spend time and money on your Google Business Listing and appear in the Google 7 Pack above compeitors that have been around longer and have done extensive SEO work on their website.
When my clients ask: Should I get my Google Business Listing Optimized or work on my website. The answer is "both". However if you have to do one vs. the other – Get your Google Business Listing Optimized first. That way as you work on your website, your company information can still be found.
Author Note: I have created a 2-part webinar on how to "Claim" and "Optimize" your Google Business Listing. This webinar will walk you through all of the steps, tricks and tips to getting your Google Business Listing created, looking good and positioned at the top of the map for your industry and area. Click-here  to learn more.

8 ) I can't have a Google Business Listing – I am just a Independent Rep or Franchise owner for my Company
Truth: If your company allows you to have a business card, then you should be able to create a Google Business Listing. Remember the Google Business Listing will send traffic to your "official" website. So if you are a MLM (Multi-level-Marketing) company, or an independent representative, or a Franchise owner this will not violate your contract terms (Double check this – but it is pretty much 100% true for most companies).
Example: You are a Mary Kay Representative in Austin Texas. You have an "official" replicated website on MaryKay.com. You create your Local Business Listing, put up information (that is on your business card) about you, why you love Mary Kay, a picture of you and link to your "official" website that is supported by MaryKay. Now – someone searches for "Austin Mary Kay rep" – your Google Business Listing shows up above the organic listings in the Google 7 Pack. The prospect clicks on your listing and goes to your "official" Mary Kay website to purchase.
I hope this dispells some of the Myth's you have about the Google Business Listing. As you can see I am a big believer in "Claiming" and "Optimizing" your Google Business Listing.
In fact, I  have created a 2-part webinar on how to "Claim" and "Optimize" your Google Business Listing. This webinar will walk you through all of the steps, tricks and tips to getting your Google Business Listing created, looking good and positioned at the top of the map for your industry and area. Click-here  to learn more.
Be on the lookout for more information about the Google Business Listing and why it's so important for your business. There is so much more to say and learn about this incredible Marketing Opportunity.
Thanks for reading!

As business owners begin to dive into the wild world of the web, they quickly are caught up in a slew of advice, technology, terms, tools and well meaning advice from every relative, staff member and individual younger than them. This can sometimes cause a problem in understanding what is important and what is just not.
Take some of my most "hated" advice. Web designers hate it, Techy Geek relatives hate it, and the office networking guy usually hates it as well. In fact they work pretty hard to convince you my advice is bad, evil and severely mis-understood.
What is that advice you ask? It's this: Do not host your website and your domain (www.nameofyourco.com) with the same company or with anyone you work with, are related to or with your designer or It guy.
Before I give my explanation… let's make sure you understand a few details. To do that properly… let's go back a few years and talk about your cell phone. In the late 90′s when you got a cell phone the phone company you signed up with (Verizon, Southwestern Bell, etc..) gave you your cell phone number (512-123-1234). Better yet, if you ever decided to leave their company and go to another – they KEPT your number! That's right – they KEPT your number. You had no choice in the matter. I clearly remember agonizing over this decision, I wanted to dump Southwestern Bell badly!  I had recently moved and the service was horrible in Washington, DC and with the crazy roaming rules (something that is now long gone) I was paying out the nose on top of it all.
I waited it out until I could not take it anymore. I finally signed up with Sprint and said goodbye to my first ever cell phone number. This was a big issue for me because at the time I worked as a Consultant and I lived by my cell phone. I had no office phone, I was 100% travel. Now I had to go through the company to get new cards (painful), contact all my current and old clients (double painful) and hope my buddies and friends would find me again. Remember Google, Facebook and LinkedIn did not exist at this time, so if you lost someones number you went to Yahoo or AOL and dug through the white pages to try and find them again and their cell phone number was never listed.
Luckily now it is super easy to "port" your phone number between different cell phone carriers. Your Domain name (www.NameOfCompany.com) is like the phone number in this scenario and your cell phone carrier is like your website hosting company. The phone number (aka Domain name) is important to you and your business and you want to keep control over it at all times. The same is true for your website hosting company – you want to maintain control over that account – because having your website go down or having your Domain name get locked will devastate most businesses. If your domain name gets locked it takes down your website and your ability to send out emails. Can you keep your business going without email?
Here is a story about my buddy Steve who had his domain account locked. He has a small consulting company in Virgina. He was using Go Daddy as his domain provider (where he purchased his domain (www.NameofCompany.com)) and as his web hosting company, its easier to write one check. He hired a local IT company to maintain his companies email servers.  Well the IT company did not keep up with the latest patches one day (it happens all the time – these boxes get attacked 20,000+ times a day) and a spammer hacked into the email server. The spammer set up shop, created a new email account and went to town emailing millions of pieces of spam via this new account. Next thing Steve knows is his email is down, the website is down. He calls his IT company – there is nothing they can do – his domain provider (Go Daddy) has locked his domain name (www.NameofCompany.com) down for spam complaints. Because he has his website hosted with Go Daddy as well, he is locked out of his website.
In Steve's situation, he created a new domain name (with another company) and had to get a new website built (remember they locked him out of his account – so he could not even get the website files). In a few months, Go Daddy did un-lock the domain and the web server. However, the damage was done.
How do you prevent this from happening to you? Never work with Go Daddy? No. Go Daddy is a great company and should not be blamed. All of the domain providers will do what Go Daddy did. It's the only way to stop spam and the legal implications connected to spam. It was made worse for Steve because he had his domain and website with the same company.
The Lesson:
1) Do NOT host your domain (www.NameofCompany.com) and your website (the content) with the same company. Keep them separate. For Example: Go Daddy is my domain provider for all of my domains and I use Bluehost to host my websites.
2) Do NOT allow your IT guy, web designer, family member or neighbor host your website. You can host your website for $60 to $95 per year. Why? you may ask… well check my next post for the scoop on why you need to host your website with a separate 3rd party.
-Jane
Search engines are the vehicles that drive potential customers to your websites. But in order for visitors to reach their destination – your website – you need to provide them with specific and effective signs that will direct them right to your site. You do this by creating carefully chosen keywords.
Think of the right keywords as the Open Sesame! of the Internet. Find the exactly right words or phrases, and presto! hoards of traffic will be pulling up to your front door. But if your keywords are too general or too
over-used, the possibility of visitors actually making it all the way to your site – or of seeing any real profits
from the visitors that do arrive – decreases dramatically.
Your keywords serve as the foundation of your marketing strategy. If they are not chosen with great precision, no
matter how aggressive your marketing campaign may be, the right people may never get the chance to find out about it. So your first step in plotting your strategy is to gather and evaluate keywords and phrases.
You probably think you already know EXACTLY the right words for your search phrases. Unfortunately, if you haven't followed certain specific steps, you are probably WRONG. It's hard to be objective when you are right in the center of your business network, which is the reason that you may not be able to choose the most efficient keywords from the inside. You need to be able to think like your customers. And since you are a business owner and not the consumer, your best bet is to go directly to the source.
Instead of plunging in and scribbling down a list of potential search words and phrases yourself, ask for words from as many potential customers as you can. You will most likely find out that your understanding of your business and your customers' understanding is significantly different.
The consumer is an invaluable resource. You will find the words you accumulate from them are words and phrases you probably never would have considered from deep inside the trenches of your business.
Only after you have gathered as many words and phrases from outside resources should you add your own keyword to the list. Once you have this list in hand, you are ready for the next step: evaluation.
The aim of evaluation is to narrow down your list to a small number of words and phrases that will direct the
highest number of quality visitors to your website. By "quality visitors" I mean those consumers who are most
likely to make a purchase rather than just cruise around your site and take off for greener pastures. In evaluating
the effectiveness of keywords, bear in mind three elements: popularity, specificity, and motivation.
Popularity is the easiest to evaluate because it is an objective quality. The more popular your keyword is, the
more likely the chances are that it will be typed into a search engine which will then bring up your URL.
You can now purchase software that will rate the popularity of keywords and phrases by giving words a number rating
based on real search engine activity. Software such as WordTracker will even suggest variations of your words and
phrases. The higher the number this software assigns to a given keyword, the more traffic you can logically expect to
be directed to your site. The only fallacy with this concept is the more popular the keyword is, the greater the
search engine position you will need to obtain. If you are down at the bottom of the search results, the consumer will
probably never scroll down to find you.
Popularity isn't enough to declare a keyword a good choice. You must move on to the next criteria, which is
specificity. The more specific your keyword is, the greater the likelihood that the consumer who is ready to purchase
your goods or services will find you.
Let's look at a hypothetical example. Imagine that you have obtained popularity rankings for the keyword "automobile companies." However, you company specializes in bodywork only. The keyword "automobile body shops" would rank lower on the popularity scale than "automobile companies," but it would nevertheless serve you much better. Instead of getting a slew of people interested in everything from buying a car to changing their oil filters, you will get only those consumers with trashed front ends or crumpled fenders being directed to your site. In other words, consumers ready to buy your services are the ones who will immediately find you. Not only that, but the greater the specificity of your keyword is, the less competition you will face.
The third factor is consumer motivation. Once again, this requires putting yourself inside the mind of the customer rather than the seller to figure out what motivation prompts a person looking for a service or product to type in a particular word or phrase. Let's look at another example, such as a consumer who is searching for a job as an IT manager in a new city. If you have to choose between "Seattle job listings" and "Seattle IT recruiters" which do you think will benefit the consumer more? If you were looking for this type of specific job, which keyword would you type in? The second one, of course! Using the second keyword targets people who have decided on their career, have the necessary experience, and are ready to enlist you as their recruiter, rather than someone just out of school who is casually trying to figure out what to do with his or her life in between beer parties. You want to find people who are ready to act or make a purchase, and this requires subtle tinkering of your keywords until your find the most specific and directly targeted phrases to bring the most motivated traffic to you site.
Once you have chosen your keywords, your work is not done. You must continually evaluate performance across a variety of search engines, bearing in mind that times and trends change, as does popular lingo. You cannot rely on your log traffic analysis alone because it will not tell you how  many of your visitors actually made a purchase.
Luckily, some new tools have been invented to help you judge the effectiveness of your keywords in individual search engines. There is now software available that analyzes consumer behavior in relation to consumer traffic. This allows you to discern which keywords are bringing you the most valuable customers.
This is an essential concept: numbers alone do not make a good keyword; profits per visitor do. You need to find keywords that direct consumers to your site who actually buy your product, fill out your forms, or download your product. This is the most important factor in evaluating the efficacy of a keyword or phrase, and should be the sword you wield when discarding and replacing ineffective or inefficient keywords with keywords that bring in better profits.
Ongoing analysis of tested keywords is the formula for search engine success. This may sound like a lot of work – and it is! But the amount of informed effort you put into your keyword campaign is what will ultimately generate your business' rewards.