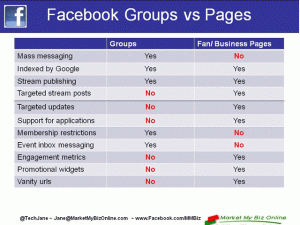 Ever struggled to try to figure out how to decide if you should create a Facebook Page or a Facebook Group to promote your book or business. Facebook does not make it easy on you to help make this decision.
This Video presentation given by Jane Dueease of MarketMyBizOnline.com in July of 2010 will help you determine what the pro's and con's are of each format.
This presentation was created to help some of Jane's Author clients like USA Today Bestselling Author, Julie Ortolon answer this question once and for all.  As Bestselling Authors, the struggle to have a "private personal life" inside of Facebook is a difficult one.  When your "Personal Profile" gets turned into a mash of Fans, Friends and Family – it's hard to really "share" your life like Facebook intended.
Unfortunately – there is not an easy answer to this problem. Nor are Author's the only one affected by this all to common issue. Dr's, Lawyers, Insurance Agent's and all walks of folks – struggle with how to balance the sales of "connecting" with clients – but stopping at Friend-ing them & sharing your "off the clock" life.
If you enjoyed the video and want to do more with your Facebook Page
Facebook Groups vs Pages for Authors
If you enjoyed the video and want to do more with your Facebook Page
Check out the Step-by-Step Facebook Video Bootcamp for Only $97
Please share your thoughts and feedback on the video, we love questions!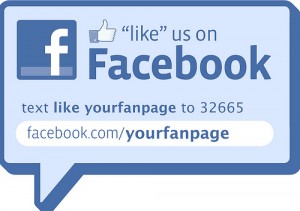 Facebook is exploding! There are over 450 million Facebook users right now!
One great and simple way to begin to dive into the world of Facebook is to create a Facebook Page for your Business. As you might have noticed a few things have changed in Facebook recently, the privacy policy, buttons, tabs and so much more!
And with these changes comes massive confusion, buttons move, "Fan me" is now "Like me" and Fan Pages are now called "Pages", is it clear yet?
No matter what business you are in – I highly recommend you create a Business Page in Facebook. Why? Simple – you might not need it now – but you will in the future. And with the "gold rush" that is on to create custom URL's for your Facebook Business Page – all of the good domains will be lost.
So, create you Facebook Business Page, Claim your custom URL (you have to have 25 "likes" to do this) and then you can sit back and figure out what to do next.
Let's get started:
1) Login into Facebook: www.facebook.com
Since this is a Business Page – make sure to have the most senior person in your company (the Owner/ CEO)– login and attach the Facebook Business Page to their personal account.
Tip: Do NOT!!! Let anyone else create your Facebook Business Page – if you do – they "own" your page – and nope – you can't get it back! (At least until Facebook creates an online customer service portal – which I don't see happening in the next few years). Note: You can file a "claim" with Facebook if your Business Page is set-up with a person that leaves or no longer works with your company. But the response time on these is pretty much super slow.
Tip: You can and should create an "Administrator" for your Facebook Page. That way the "Social Media Person" you have on staff can manage the page (post, edit, comment, etc..) but not "own" it. This is super simple and you can have several Admin's on your Business Page – so make sure to sign up multiple people on the page – just in case.
Note: While you are in Facebook, I would love it if you would "Like" of our Facebook Business Page: www.Facebook.com/MMBiz. It's a great way to keep up on all that Market My Biz Online is up to, plus it's a great way to get your Golden 25 Like's and your Custom Domain.
2) Now that you are logged into Facebook – with the account that you want to forever and ever "OWN" this Facebook Business Page:
Go to: http://www.facebook.com/advertising/?pages
Click on the Green Button: "Create A Page"
3) Select what you want the page for:
A: Local Business
If you are a local business and have one or several locations this is your check box. (Example: Restaurant Chain of 3 stores) Why? Because Facebook is creating a Local Business Directory – and this is how they are collecting the data. If in doubt this is your best selection.
Note: Once you choose Local Business – there is a drop down that appears. If you fit "perfectly" into the categories listed – change to one of them (Example: Real Estate) if your best category for your business is not listed, just leave it as Local Business.
B: Brand, product, or organization
If you are a true "brand" or single product (Ex: Tide) or a Non-Profit – this is your choice.
Note: If you are a Non-profit: You might want to consider creating a Community page as well. (Ex: Breast Cancer Survivors, or Down Syndrome Families in Austin).
C: Artist, band, or public figure
This is for Bands, Artists and public figures. (Example: Britney Spears, Tiger Woods and Pearl Jam).
4) Page Name:
This will be the "title" of your page – it is very important. Why? Because is has a strong Search Engine Optimization value and it is what folks will see when they get to your page – and get messages from you.
Stop and think about how you want to be found and known. If you have a super strong local or regional brand (or want to create one) then the title of your page should be your brand. (Example: Starbucks)
If you are an independent business or don't "own" the legal rights to your company name – think of great keywords you can use in your title. (Example: Austin Fitness Trainer, Austin Insurance Solutions)
5) Check the Box
I'm the official representative of this person, business, band or product and have permission to create this Page. Review the Facebook Terms
I do suggest glancing over the Facebook Terms – they have some things in there you might want to make sure you follow.
Some of the Facebook Terms:
You will not offer any contest, giveaway, or sweepstakes ("promotion") on Facebook without our prior written consent. If we consent, you take full responsibility for the promotion, and will follow our Promotions Guidelines and all applicable laws.
You will not use Facebook to do anything unlawful, misleading, malicious, or discriminatory.
You will not use Facebook if you are a convicted sex offender.
You will keep your contact information accurate and up-to-date.
You will not share your password, (or in the case of developers, your secret key), let anyone else access your account, or do anything else that might jeopardize the security of your account.
6) Create the Page
Click the Blue Button: Create Official Page
Congrats! You have your Facebook Business Page!
7) Next Steps: Customize, Get "Likes" Create a Custom Domain
Now that you have your page, you need to customize it, add pictures and information, video and more. Getting the page is just the beginning!
Good news: We are having a Facebook Bootcamp for Business on May 20 and 21st – to help you learn how to make the customizations to your Facebook Business Page. Facebook has it's own coding language (FBML), rules, structure and so much more. We will simplify this for you – take you step by step through the process and get you up and looking great in no time!
RSVP for this exciting webinar today: May 20th and May 21st, 2010

Create your Custom Domain for your Facebook Business Page.
I created an entire Blog post on just this topic.. so much great information!
PS: I would love it if you would "Like" of our Facebook Business Page: www.Facebook.com/MMBiz. It's a great way to keep up on all that Market My Biz Online is up to, plus it's a great way to get your Golden 25 Like's and your Custom Domain.
So you finally have your companies Facebook Fan page up and working! Congrats!
Here comes the fun part – getting Fans and getting a custom URL for your Company Fan Page.
The custom URL will not only make it much easier to share with others, but it is just prettier!
What you get from Facebook:
http://www.facebook.com/profile.php?id=6325*4#&re
(not so pretty… )
What it can change to in these 3 easy steps:
http://www.facebook.com/MMBiz
Things to keep in mind about this change:
1) Once you change.. you can't go back. So think deep and hard about what you want the name of your Facebook Fan Page (also known as public page) to be.
2) Some are taken: So hit your favorite search engine and give them a try – www.facebook.com/the-name-you-want
3) You need Fan's to make the change – in fact you need 25 Fan's before Facebook will let you get a custom URL. So email your favorite friends, family and neighbors to become a fan.. so you can get the custom URL.
The 3 Easy Steps to Getting Your Custom Facebook Fan Page:
1) Login to Facebook.com – with the account that is the administrator for the Fan page.
2) Go to this page: http://www.facebook.com/username/
3) Select if you want to change your Fan Page (aka your Business page) or your Personal Page URL – you can do both. Just pay attention which one you choose – so you don't accidentally name your personal page your business name!
Done.. yes.. that is it.. you are done!
Questions or Comments?
I'd really love to hear if you have any questions or ideas you want to share? Any topics you'd like me to cover? If so, please post them as a comment. PS: Don't forget to sign-up for the Strategy Secrets Newsletter to keep in the loop on all the scoop! ==>
Thanks!