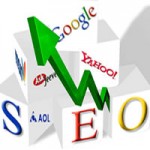 Are you confused yet? SEM, SEO, PPC, Google Places, Google Maps? Before you start working on getting your site on the Search Engines you need to learn the basics. And that starts with understanding the most important page out there your keyword SERP.
What is your keyword SERP? Well SERP = Search Engine Results Page. So your Keyword Search Engine Results Page is the page that shows up for the keyword you want.
Clear as mud? This video is designed to help you understand the key points of Search Engine Marketing. It always seems to be one of the most confusing things for folks to understand.
And frankly… I am not surprised…. the industry is constantly changing the names, titles and "slang" for each area.
There are 4 key components of Search Engine Marketing:
Keyword SERP (see info above)
Pay Per Click (also known as PPC), Also known as "Google Adwords"
Google Map, Google Places, Google Business Listing Center
Organic/ Natural SEO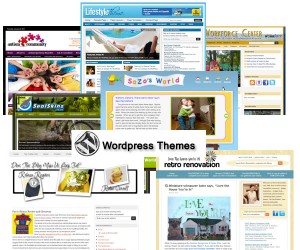 Here are some core things to remember when looking for a WordPress Theme for Business:
1)    WordPress Theme Structure:
Remember when you were looking to buy your first home or rent your first apartment? The agent kept telling you to look past the color scheme and focus on the flow of the home or apartment not the color on the walls? You can paint walls, replace appliances but moving a bathroom is a major renovation and expense.
Ditto goes for the WordPress Theme. Buy one based on what it can do for you out of the box – not what colors they use. You can have a theme's color's changed easily – re-building functionality is much much much more expensive. And really if you are changing the functionality of the theme that much – you are better off just looking for another theme.
Classic Example: Below are 3 images of the same theme – what the theme looked like out of the box, and 2 sites that are using the same theme – but with different colors. It is so important to not pass a great theme by because of the colors! Don't make this mistake!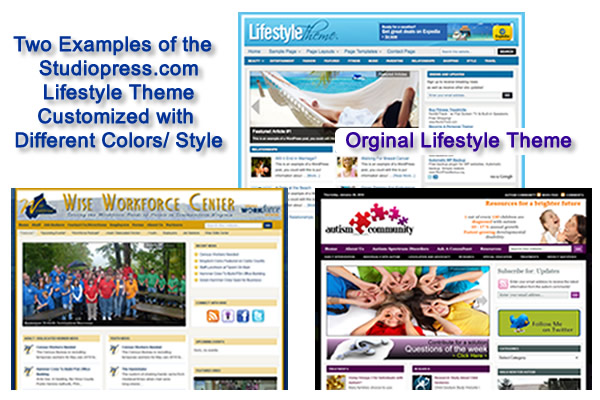 2)    Ability for your WordPress Theme for Business to Grow with you:
One of the number 1 reasons WordPress is so great – is that you don't need a webmaster. You can add a page, tab, post or widget and not screw up the rest of the site. So why is it that business owners get a free or cheap theme – that only allows for 5 pages? Ability to grow is key! Yes, the beauty of WordPress is that you can swap themes really easily. However, once you start customizing a theme – all of your changes don't always move to the next theme – so you have to start fresh.
Classic Example: Your Company does not have a blog right now, and frankly no one has any idea what to say on one. No problem. Choose a theme that will allow you to grow with it and it has a blog tab already to go (a blog tab is where the posts are linked and ready to go out of the box). So when you have something to blog about – the click of a button and you are set to go!  If you choose a theme that does not have a "blog" type button or tab built in… you have to call a webmaster in and pay to set it up. Not a good plan.
Look at each theme based on where it will take you – and what features you like – but might not be ready for right now – that you can "turn-off" for now – and "turn-on" when you are ready.
3)    The WordPress Theme's Flexibility:
Something that you love today, like a tab called "Services" might need to change in the future. Can you add a sub-tab (also called drop-down) underneath "Services" with a click of the button? Can you change the tab titled "Services" to "Our Best Services" You should be able to do all of this. This is key when you are having a designer "customize" your theme. I have had clients that choose a theme and customize it so much that the flexibility – like adding a new tab – is completely impossible.
Two Areas you need out of the box flexibility on:
Page Layout: This is where you can have a page be a 2 column page, 3 column page or full width. The best themes will have this as an option you can apply to each page. This should be a built in feature for your theme.
Navigation: Can you add sub-navigation easily? Sub-Sub-navigation? You never know how your business will grow. It is ideal to have your theme grow with you – and a good theme will have these options built into it.
4)    Active Customer Support Forums:
Theme's are cheap they range from $50 to $100. So the customer support forum is critical in your review process. An active customer support forum will save you from making mistakes, provide a great place to find web designers that are specialized in the theme and cool tips on simple things you can do to make your theme shine.
Simple signs of a good customer support forum:
Customer posts are recent: (as in the day you login) and there are replies to the posts on the same day.
Video Tutorials: most themes should have at least one video tutorial on how to make the basic changes to the theme. Video is a great way to learn – and really key to keep up with all of the theme changes.
You can search posts: Being able to search existing posts and tutorials is critical – some one may have the answer to your question already up – all you need to do is search. Robust searching is a key component of a good customer support forum.
5)    Is your WordPress Theme for Business being Maintained?
Would you buy a car from a company that closes up shop? Who will keep up with the recall's – safety issues and changes that might be needed to your car over the years? The same issue and concern applies to WordPress Themes. WordPress is a free content management system that is constantly being updated. Constantly! It is not un-common for WordPress to have 10 – 20 updates in a year (some major – some minor) that means your theme has to keep up. With all of the updates and changes, the chances of your Free theme being able to handle and grow with them is low.
Remember: Part of the beauty of a WordPress site being able to add pages and maintain the site for the most part on your own. So buy a theme that is clearly being supported and maintained by an active paid or volunteer army of webmasters. Most themes run from $50 to $100 and include a lifetime of support and maintenance.
Hot Tip: Be on the lookout for theme's that web designers specialize in. If you can find 10 – 20 web designers on the theme's website – that clearly specialize in that theme – this will ensure someone is keeping up with the maintenance and support issues. The more dedicated specialized web designers – the better the support forums and the better buy for your business theme.
Your WordPress Theme for Business Checklist:
Functionality?

Does it have content where you want it? Can you add features to the side bar?

Can you add in new widget where you want them?

Can the theme grow with your company?

Does it have a blog tab/ page built into the theme?

Does it have lots of places to add widgets? Easily?

Who supports and maintains the theme?

Does it have an active customer support forum? Are customer posts responded to?
Can you search their archives?

Does it have a robust list of web designers that "specialize" in that theme?

Flexibility

Does it have a 2-column, 3 column and full width option for pages already built into the template?

Does it have drop down navigation options? Sub-navigation options? Sub-sub navigation options? Are they built into the theme?